Scania delivers 80-ton capacity truck to Minera Condestable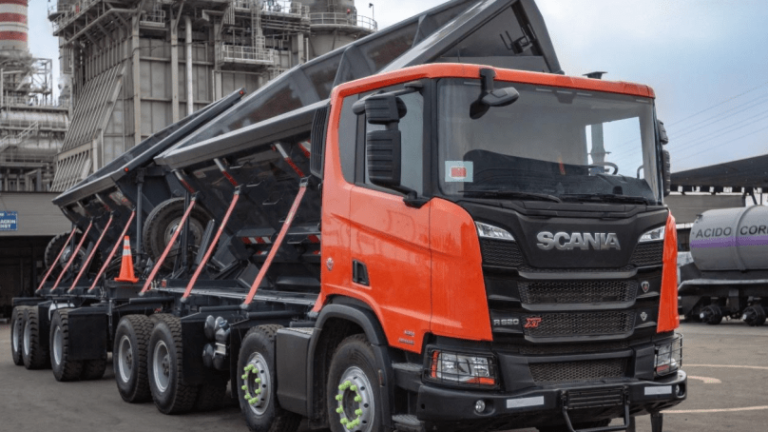 Scania del Perú marks a milestone in Peru's mining industry by delivering an 80-ton capacity truck with 110 tons of gross combined weight for Minera Condestable, an underground mining operation, located in the Lima region.
«We appreciate the commitment CN Minería y Construcción SAC made by acquiring our solution because it is the alternative that offers them the greatest load capacity and productivity by having the most powerful engine on the market», commented Oscar Castillo, Mining Manager at Scania del Peru. With this acquisition, CN Minería y Construcción SAC will increase its fleet of Scania Heavy Tipper 8 × 4 trucks.
The construction of the truck is based on the Scania Heavy Tipper chassis 8 x 4 version and is equipped with a powerful 620 HP V8 engine, 3000 Nm torque and Euro 5 emission level. Its chassis design is uniquely designed for this purpose, as it includes a combination of a hopper and trailer with a combined capacity of 43m3 as well as a novel side discharge system.
This vehicle is the result of a need to increase productivity in underground mining by CN Minería y Construcción SAC, client and strategic partner of Scania and an operator at Minera Condestable.
Source: https://energiminas.com/scania-entrega-camion-con-capacidad-de-80-toneladas-para-mina-subterranea-condestable/