Southern Peaks Mining (SPM) named Anchor Company for Global Reporting Initiative (GRI) 2021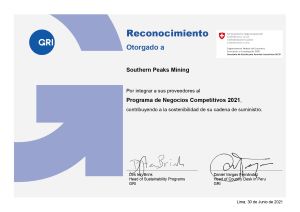 Lima, July 20th, 2021.- Southern Peaks Mining (SPM) has been named an Anchor Company ("Empresa Ancla") for the Global Reporting Initiative (GRI) in Peru for the second consecutive year, thanks to its participation in the "Competitive Business Program" ("Programa de Negocios Competitivos del GRI"). Here, SPM lead its strategic partners/suppliers to take a first step into improving their corporate sustainability.
This year, eleven of SPM´s suppliers received training and advice on environmental, social, and corporate governance issues) (also known as ESG) that highly impact their operations, and then worked in completing a sustainability report. These trainings and reports respond to our corporate mission and vision statement and to the GRI standard. Out of the eleven companies, three companies successfully prepared and completed their sustainability reports in the given timeline. SPM will continue to guide the remaining companies until their reports are completed.
The virtual ceremony, in which SPM was recognized as an Anchor Company GRI 2021 and our partners were recognized with a certificate as part of the international community of responsible suppliers for the Global Reporting Initiative, took place on Wednesday, July 14.