"Growing Together" campaign of Ariana Operaciones Mineras benefits dozens of families in Carampoma and Marcapomacocha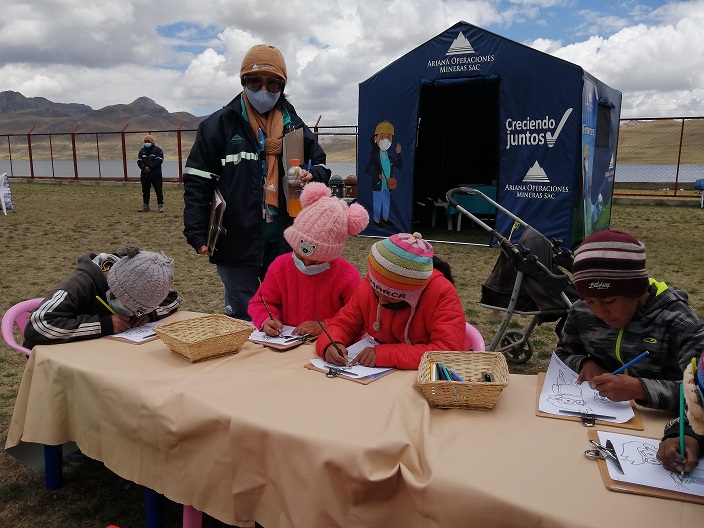 During September and October, the residents were trained in how to prevent COVID-19. They also received psychological support and biosecurity materials.
Lima, October 12TH  2021. Ariana Operaciones Mineras of Southern Peaks Mining (SPM) successfully started the "Growing Together" campaign, benefiting dozens of families in the districts of Carampoma, Lima and Marcapomacocha, Junín. The program was carried out through itinerant tents, where specialists trained the population on the care, risks and impacts of COVID-19 and provided free psychological support to children and adults. In addition, all people received kits that included masks, alcohol, alcohol dispensers and face shields.
"This program allows us to reaffirm our commitment to the well-being of the communities. We are looking to support sustainable development in the country, with responsibility and respect," said Adolfo Vera, president of SPM.
The "Growing Together" Campaign, is one of the initiatives that Ariana project has been carrying out with the objective of generating positive impacts and working in an articulated way with the nearby communities for their social and economic development.
The program will continue until December, bringing information and services to the citizens of Carampoma, Marcapomacocha and the rest of the area´s rural communities about health, education and culture, following all biosecurity measures.
About Southern Peaks Mining:
SPM is a private Peruvian company founded in 2010. It currently operates Compañía Minera Condestable in Mala, Lima  and is developing Ariana mining project in Marcapomacocha, Junín. Compañía Minera Condestable mines Copper, Gold and Silver, and is authorized to process 8400 tons per day. Ariana Operaciones Mineras is a Copper and Zinc deposit that is under construction and will process 2000 tons of ore concentrate. SPM also has administrative offices in Lima.
For more information, please visit the website: https://southernpeaksmining.com